(0 / 5) not yet rated on Google_Play on 1/1/2019
This Android application SQL 70-462 Administering Microsoft SQL Server 2012/2014 Databases, is a preparation quiz with 302 questions to test your knowledge before attending the SQL SERVER 2012/2014 70-462 Exam. Here you can find more information about this app.
Quick Info
Installs: 10

+

Current Version:

1.10

Requires

Android

:

4.1 and up

Updated:

September 20, 2018

Size:

3.7M

Cost: ~1.89€
*These photos are from  SQL Server Interview Full and intend to show the environment of the app.
Administering Microsoft SQL Server 2012/2014 Databases
This is a quiz for SQL Server Database administrators who want to take the exam: 70-462. The following subjects are touched:
Install SQL Server and related services
Configure additional SQL Server components
Identify and resolve concurrency problems
Collect and analyze troubleshooting data
Implement a migration strategy
Plan installation
Manage and configure databases
Configure SQL Server instances
Implement a SQL Server clustered instance
Manage SQL Server instances
Implement High Availability
Performance Tuning
And much more…
Copyright
The questions and answers are made by Dimitri Stathatos
The app is made by the author of this article Nikolaos Katsogridakis
Download
You can download it from Google_Play or by the following QR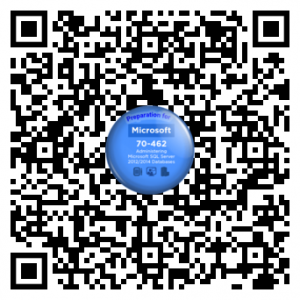 There is also a free full functional version of this quiz with 40 questions to try before purchase the full version. You can find it
here.
Using the SQL 70-462 Preparation Exam
Important hints
Long click on Next/Previous buttons, goes to the Next/Previous unanswered question.
By default, when you run the app, "Quiz Mode" is off, turn it ON to update the stats.
Your answers are saved when exit the app and if "Quiz Mode" is ON.
If you want to completely uninstall the app, go to settings and see the section "Delete ALL".
Share the SQL 70-462 Preparation Exam
Feel free to share this app if you like it.  In settings menu you can find two buttons for sharing this app with your friends. One for the free version and one for the paid.
Updates
2018-10-18 SDK upgraded, GDPR compliance.
See more Android applications here.
Nick lives at Chalkida and his hobby is to travel. He has studied at London Software Engineer and with his friends visit new places and uncoverthe hidden secrets.